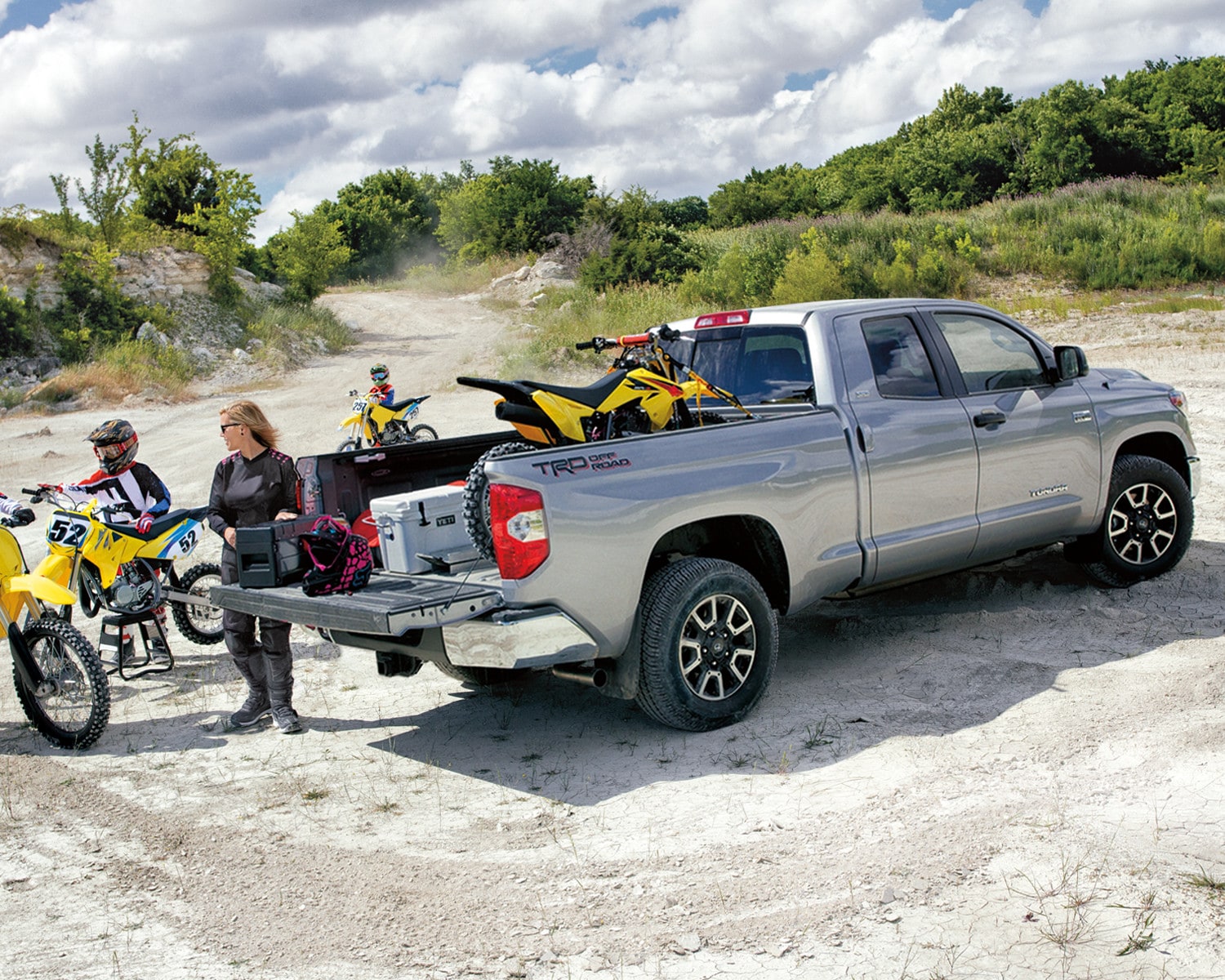 We all have those moments in our lives where driving a car just won't cut it. If you happen to be a carpenter or other profession that involves a lot of hauling materials then those moments will come far more often than the average office worker. During these situations, many Americans look to the Toyota Tundra as the solution. This half-ton beautiful piece of machinery is capable of performing at top levels across all areas.
The tow-haul mode feature is incredibly useful for individuals who use their vehicle to carry heavy loads or pull trailers. It expands the capabilities of the lower gears and improves the vehicle's ability to accelerate, brake while on a steep decline, and effortlessly cruise all while hauling or towing heavy loads.
The trapezoidal frame and supersized 13.9-inch front brake rotors provide the peace of mind that your truck will be able to handle curves and driving downhill with ease. If you ever get into a situation where you have to drive through some pretty tough terrain then you'll be glad you have the automatic limited-slip differential. With the help of Auto LSD, the Tundra is able to divert power and traction to certain wheels to provide optimal traction in any circumstance.
With the incredibly powerful i-FORCE V8 engine that comes equipped with the Tundra outputs a massive amount of power. This combined with the Acoustic Control Induction System, which automatically adjusts intake runner length for the best torque and performance possible, makes your drive effortless in even the muddiest of gravel roads.
If you're tired of letting mother nature push you around then get yourself a Toyota Tundra to really show her who's boss. We are constantly striving to give you a model designed for your exact needs.
Hours
Monday

9:00am - 9:00pm

Tuesday

9:00am - 9:00pm

Wednesday

9:00am - 9:00pm

Thursday

9:00am - 9:00pm

Friday

9:00am - 9:00pm

Saturday

9:00am - 7:00pm

Sunday

Closed